With nine snow days under our belt this winter, I feel like I'm back in Chicago without the plows or salt.  Fortunately for our new mayor, Portlanders are a bit more understanding than Chicagoans when it comes to snow.
January is a time for goals and I was ready to hit the ground running.  Then the ground froze.  What's a girl to do but take a deep breath and make the best of it.
Here's what you need to know for snow day fun in Portland.
Enjoy it!
Snow in the city is rare.  2017 has seen the most snow in Portland since 1980.  The average snowfall for the city is only 4″ per year.  Hardly enough to have much winter fun with.  This year we made the most of what we call our 2nd winter break.
Go Street Sledding
We discovered that several Portland streets are unofficial sledding hills.  The long time locals know which streets make great sled runs and are careful to avoid driving down them when it snows.  We took a run down Ankeny along Laurelhurst park that sent us sailing over a block!  After almost driving down a prime sledding street I asked neighbors which streets to avoid.  To me, it is uniquely Portland that people will take the long way around to ensure fun takes priority.
Cross-country skiing
We saw neighbors out on their skis from the time snow covered the streets until it started dissipating a few days later.  Since few people drive in Portland when it snows and they don't plow the neighborhood local streets, there were endless courses for Cross Country skiers.
Park sledding
Terrain in the park that I had hardly noticed before emerged as glittering sled hills.  People of all ages, bundled up in clothes usually reserved for a weekend on the mountain, convened in the parks for winter fun.  The best part of park sledding was witnessing what qualified as a sled.  Hipsters on Rubbermaid lids laughed alongside kids who had pool whales that spun down the hill.  I had been fortunate enough to be at Freddie's when they had a few sleds this winter and picked up two.  By the end of the week of snow, both had been repaired with candle wax and dryer tape but we kept going.
Ice Skating without the mall
If you want to ice skate in Portland, you usually have to do it with the faint smell of a food court looming.  Due to the stretch of days below freezing our neighborhood pond froze over and we took our ice skates out for some old fashion fun.  Most people were out there in boots sliding around.  It was a great way to make the most of a cold stretch. We did have to be careful to avoid the darker ice especially after hearing about someone who fell through shortly before our arrival.
Tips: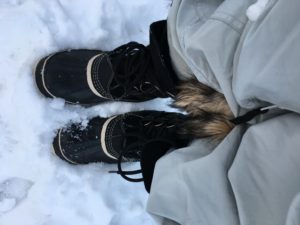 Get a sled ahead of snow.  They sell out fast when there is snow in the forecast and most winters you only get one chance.
Ask your neighbors which streets should be reserved for sledders when it snows.