We had lived in Portland for just over a year when we took our first road trip to Seattle.  When leaving Chicago, my kids were very concerned about the lack of an American Girl Place and adjacent Lego Store in Portland.  I promised we were only a few hours away from Seattle and they had both.  This promise, which I was reminded of often, mixed with my need for a big city speed and directness fix finally made us plan the trip.
As we loaded the car, my 19 year old self was in heaven thinking of the all the bands and concert venues I had read about in Rolling Stone during my college years.  I could almost smell the weed and Doc Martians while the Singles soundtrack played in my head.  Fast forward a couple of decades, a husband and 2 kids and this was my new playlist…
The Gum Wall– The famous gum wall had just been steamed down a week earlier and I had every intention of adding to a new generation of candy graffiti.  Once we located the wall in Post Alley we found a Target nearby and bought our gum.  I chose Hubba Bubba and my husband grabbed Big League Chew.  Back at the gum wall his choice emerged the clear winner.  Big League Chew is the best for gum art on brick walls.  It's stretchier and stickier.  We took a few pics, then my daughter stood in the glow of the Alabi Room sign and asked for some hand sanitizer.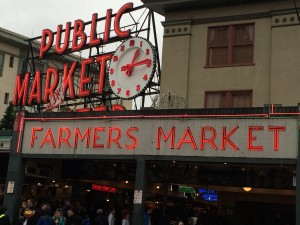 Pike Place Market– Pike Place did not disappoint.  Touristy?  Hell yeah but the fish mongers are a must see and they have fun with the crowd.  They even have a little fish on a stick that they move when people get up close.  The bathrooms were surprisingly clean if you need one while in that area.
On the way back from the bathroom we spotted a barber on one of the many underground layers of Pike Place.  My son desperately needed a haircut so we went in.  He got a great haircut and I learned that old barbershops don't have InStyle and People, they have Playboy and Penthouse.
The Original Starbucks–  We walked by the Original Starbucks and the line to get a drink there.  It was cool to see but being Portlanders now we had already gotten coffee at a micro-roaster.
The Waterfall Garden Park– The waterfall garden was between the above mentioned micro-roaster and our hotel and is a beautiful place to enjoy a morning or afternoon or evening cup of coffee.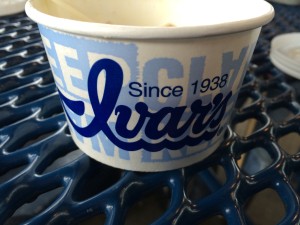 Ivar's Seafood–  Ivar's was put on the must-eat list by my friend who is a Seattle native.  It was kitchy and serves some delicious chowder.  We just hit the walk up counter on Pier 54 for a quick lunch.
The Curiousity Shoppe–  Right by Ivar's was an old fashioned curiosity shoppe with plenty of souvenirs and some old world creepy stuff.
Amazon Store– Up in the University District is the only Amazon storefront in the country.  All of the books are whatever price they are on Amazon that day.  It was like a dream come true to a girl like me who wants Amazon prices but loves an actual bookstore.  If you want some coffee with that book the Amazon store is only steps from this Starbucks which features Reserve brews, beer and wine.
Voula's– While in the University District we were hungry so I shot a text to a University of Washington alum who pointed us to this classic greasy spoon that did not disappoint.
We also walked around by the Space Needle, Chihuly Gardens, etc. but we were soaked and ready for dry clothes and a hot meal by that point.  As promised, the trip included a stop at the American Girl Place and Lego Store.  They are much smaller than Chicago and not even in Seattle but rather in the North Suburbs. My kids didn't care.  It had been worth the wait.