There is so much to love about Portland. In honor of Valentine's Day, I'm listing off the places I love most by category.  For February 14th, here are 14 places I love in Portland.

5 Restaurants I Love in Portland
These are all on the East side with the exception of Bamboo Sushi, which has locations in all 4 quadrants of Portland. An urban girl at heart, I like to walk to dinner so my favorites are within a couple miles of one another.
Por Que No – Delicious tacos, margaritas, and ceviche
Guero– This place started as a food cart and the lines have moved down the street to their brick and mortar location for good reason. Don't miss the guacamole with pickled carrots on the side.
Apizza Scholls– Great pizza and beer selection. Get there early as they close once they run out of dough. They do take limited reservations.
Harlow– This is my favorite spot for a healthy lunch. If you are under the weather, the Wellness Toddy is a must. Need a pick me up? Skip the coffee and get a Stumble Bee.
Bamboo Sushi– This is the best sushi I've found in Portland. My favorite date night spot.
5 Coffee Shops I Love in Portland
There are so many great coffee shops in the Rose City but these are my go-to spots.
Crema– Great baked goods and ample seating to get some work done. Bring your headphones, this is a social place, not a quiet place.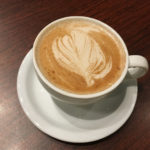 Never Coffee Lab– A great stop between Mt. Tabor and Laurelhurst Park with unique coffee drinks. Try the Rich Kid.
Either Or– Coffee, cocktails, lunch… Hunker down on a rainy day, this place has it all.
Prince Coffee– Known for their Stroopwafels but I always order the quiche.
Oracle Coffee– Incredibly unique coffee drinks on the south waterfront. You feel more like you're in a trendy cocktail spot than a coffee shop. Don't be surprised if you run into some Fall Out Boy fans.
4 Outdoor Stores I Love in Portland
The Mountain Shop– Our go-to place to rent skis, snowshoes or any other outdoor equipment. 
Next Adventure-Large store with plenty of selection of outdoor gear and a separate water sports shop open in the summer.
US Outdoor Store– Great outdoor store in downtown Portland. Don't miss the bargain room upstairs.
Columbia Employee Store– If you are lucky enough to get a pass from someone who works at Columbia, the employee store is filled with Columbia, Mountain Hardware, Prana and Sorel, about 50% off retail. 
Happy Valentine's Day Portland! Enjoy eating, sipping and shopping in the loveliest city in the West.