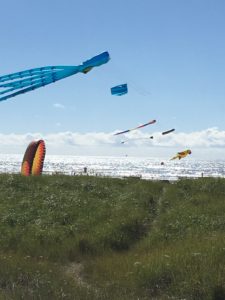 The beautiful thing about moving across the country is that we can drive to numerous places we have never seen.  My family and I are still trying to find our perfect coastal spot in the PNW but the search is proving to be a lot of fun.
For Labor Day we decided to try the Long Beach Peninsula, again.  We drove up there about a year ago and stayed at a quaint little inn in Ilwaco but since that trip, I read about other spots that made me want to give this beautiful beach another try.
This beach is famous for kite flying.  We got our kite going and anchored it in the sand where it flew itself for the next 2 hours.  When it comes to dining there are plenty of choices but most are mediocre quality and overpriced.  I learned my lesson after the first trip and made reservations at some of the places with better reviews.
Here are my favorites from both trips:
Buoy Beer Company (Astoria) – A perfect place to stop for lunch on your way to the Long Beach Peninsula. There is almost always a wait but you can wait with a delicious beer and my kids love the glass floor where sea lions laze the day away.  The views of the Columbia River and surrounding landscape are breathtaking.
Adrift Hotel– I saw the Adrift from the beach on our first trip to the Peninsula.  I knew that is where I wanted to stay if we returned.  It did not disappoint.  The perfect blend of laid back beach fun and urban chic.  We took the complimentary bikes for a couple of rides along the the beachfront trail.  The second floor common area provided some lively games of fusball and shuffleboard.  You can pick up some local wine or beer and a DVD in the lobby too.
Horseback Riding– We rode horses down the beach with Back Country.  This was a highlight for my daughter who loves all animals.  This place is a bit odd and you might end up with a donkey, like a few people in our group, but at $30 per person for a 1-hour ride it was well worth it.
Cranberry Museum– I am perennially sucked in by a good roadside attraction.  When I read about the Pacific Coast Cranberry Museum I had to check it out.  This is a demonstration farm and museum.  It's free but if you ask my husband he'll tell you it costs $15. I had read about Starvation Alley juice in Sunset and had to try it.  Turns out the bottle from the Cranberry Museum gift shop costs $15.  I discovered they also sell it in the lobby of the Adrift for $10.
The Depot– We went for happy hour which we discovered is only honored in the off season.  Regardless, we stayed for a drink and some food.  I'm glad we did.  Everything we ordered was delicious.  I especially liked the chowder which was fresh and light.  Make a reservation as this place is small.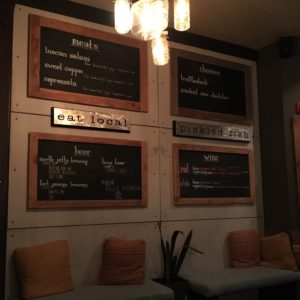 Pickled Fish–  This restaurant on the 4th floor of the Adrift has a spectacular view of the ocean.  The food and drinks are well thought out and I liked everything from the pizza to seafood dishes.  We made late reservations so we could check out the bands which start at 8:00 or 9:00 depending on the day of the week.
Shelbourne Inn Restaurant–  This pub in a quiet little inn has good food.  We stopped in for lunch.  The service was slow but friendly.
Cape Disappointment– Great hiking trails to a secret beach, lighthouses and the Lewis and Clark Interpretive Center.  We hiked then headed back across the parking lot to the interpretive center which has exhibits about the expedition west as well as the evolution of the Coast Guard in the area.
Discovery Trail– We rode bikes along this beautiful wooden path that runs beside the beach.  If you go South from downtown you can ride all the way up to Cape Disappointment.
Cottage Bakery– This is an unfussy, old fashioned bakery.  There are plenty of donuts and classic pies to choose from.  Although it's right along the main drag this place feels like it's there for the community and not a tourist trap.
Kite Shops– There are some interesting kite shops to check out along Pacific Ave but I found them largely overpriced.  Who could blame them?  You don't want to be caught at this beach without a kite.  The second time we went I got this kite ahead of time from Amazon and it was a hit.
Make reservations for dining
Buy your kite before you go
Call ahead as we found several websites for area businesses to have inaccurate or out of date hours and information.