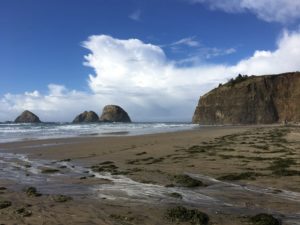 Upon moving to Portland, I soon learned that the Pacific Ocean in Oregon is not "the beach" but rather, "the coast". Herein lies the difference. The "beach" evokes thoughts of sunshine and swimming in the water.  The "coast" provides natural wonders like tide pools and hiking trails that overlook the ocean. It also provides water so cold it requires a wetsuit for prolonged exposure in any season.
At first, I was disappointed by the coast.  Being an hour from the beach was a big selling point for me moving to Portland.  I'm a girl who loves to make a day of laying in warm sand in a swimsuit, alternating paddle boarding and reading a good book.  I was surprised the first time we went to the coast in the heat of summer to find the air cool and the water cold.
Over the last few years I've reset my expectations and learned to love the coast.  I still largely thought of it as somewhere to go in the summer but a Veteran's Day trip changed all of that.
Autumn at the coast is beautiful.  The moody coloring of the Pacific Ocean served as a backdrop for a weekend cooking with friends and playing board games.  Simple pleasures that my self-induced hustle and bustle hadn't allowed in a long time.
How to enjoy Autumn at the Oregon Coast: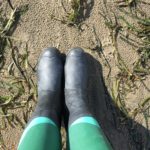 Trade in your flip-flops for rain boots- The kids let the tide chase them & it felt good to put my feet in the water even though I didn't want to get wet.
Bring a good raincoat, hat, and gloves- It seems to mist even when it's not raining.  Being warm and dry made it so much more enjoyable.
Grab a cup of hot cocoa or coffee – For me, there is nothing better than a hot drink to warm me from the inside while taking in the vastness of the ocean.  We were in Oceanside which is a pretty sleepy town but managed to find a hot cup at the Blue Agate Cafe just above the entry to the beach.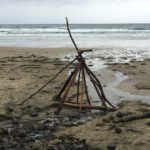 Take a walk down the beach & stop to play – The Fall brings a different kind of beach play.  The kids used washed up sticks and seaweed to build a structure on the beach.  No sand toys required.  We even broke open a few rocks to find Agates.
Reflect-there is nothing like the ocean to remind me that life ebbs and flows.  This served as a wonderful message right before the busy holiday season.
The weather seems to break even on rainy days.  If the rain stops, stop what you are doing and run to the beach!